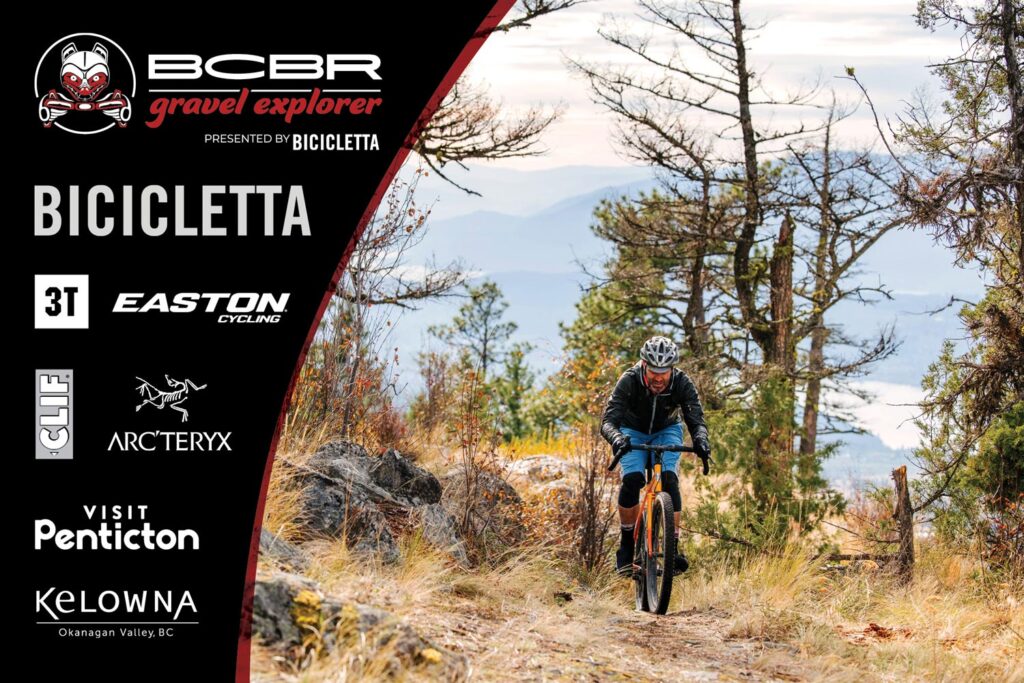 We are excited to unveil our newest offering: The Gravel Explorer aka BCBR Gravel. This new event will take place in British Columbia's Okanagan region from September 26 – October 1, 2021. A new five (5) day stage-race classic is born!
The Gravel Explorer race is about the spirit of adventure, a gravel grind with grit! In designing this route and picking this location the team at BCBR has set its sights on a brash and bold mix of everything a gravel bike is capable of. Your senses will tingle with excitement as you explore every nook and cranny available in this unique and special location. Each stage will tell its own heroic story, something outside of the ordinary!
This newest gravel race incarnation will certainly take some cues from the BC Bike Race: first it is slated to be five (5) epic days, the BC Bike Race has always focused on multi-day excursions and will stay true to its fifteen-year history. Secondly the nature of the routes will aim to challenge the concept of what a gravel bike is capable of by situating in this region loaded with varied terrain – wineries, the Kettle Valley Railway (KVR) and excellent off-road access – all these will guarantee a wide palate of cycling delights for all of the participants.
Adding another event to our roster bookends BC's riding season with a race in the early summer and now a race in the fall. We now add Gravel to our roster along with BC Bike Race the "Ultimate Singletrack Experience. 
Dean Payne President, BCBR.
Along for this bold new adventure have come a list of amazing sponsors and supporters including the Tourism departments of Penticton and Kelowna.
Presented by Founding Sponsor, Bicicletta
BICICLETTA is extremely excited to be the presenting sponsor for the BC Bike Race Gravel Explorer for 2021.
Founded in 1984, BICICLETTA began as a small, Italian import road cycling store in Kitsilano. The original location featured exotic brands such as Cinelli, Campagnolo, and Pinarello and famously sold only Italian brands and products. By the early nineties BICICLETTA had moved to its current on West Broadway and had expanded to include triathlon bikes and a wide selection of cycling clothing and accessories. In 2017 they expanded again adding mountain and E bikes to its catalogue.
Who else would you expect to throw all terrain adventure, multi-day gravel routes and everything under the beautiful Okanagan sky into a blender? Add hints of the Naramata bench wineries and a dash of singletrack- then uncork with panache – only the BC Bike Race. 
Jon Bula, co-owner Bicicletta
Today BICICLETTA supports riders across Canada while remaining true to its roots. Along with the Vancouver retail store they have a dedicated fulfillment centre and one of the largest premium cycling retail catalogues in North America. Their team of experts (Rider Support) support clients from coast to coast on the road, gravel, and mountain.