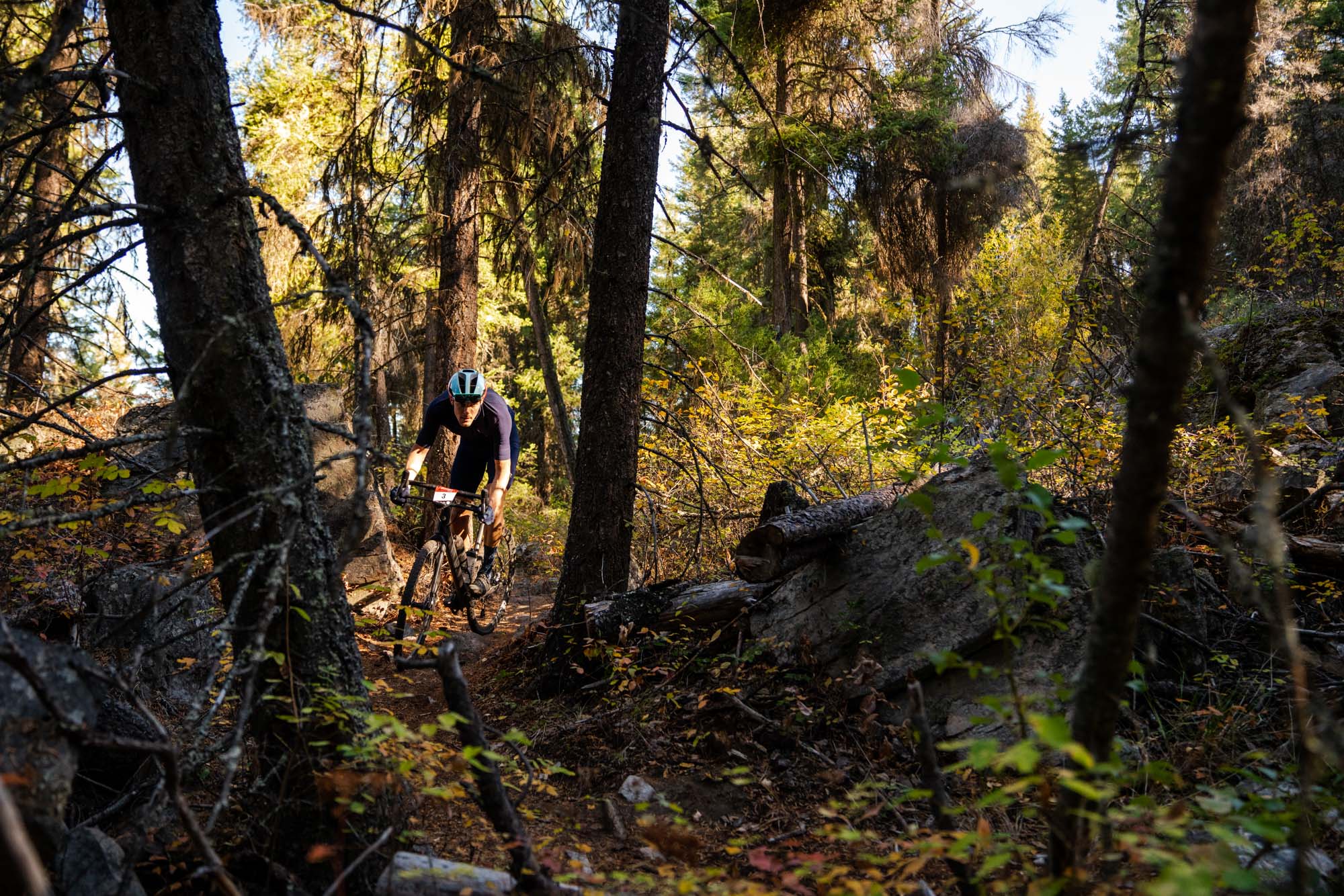 Presented By Arcteryx
Location – Naramata, Three Blind Mice
Distance – 47.5 km
Vertical – 1239 m
Stage Two Results
Today's Adventure Ride would be a sampler pack if you used beer for a reference; a sustained road climb out of Naramata through the sun-dappled vineyards brought the racers up to the KVR (Kettle Valley Railway) and stunning views across the Okanagan Lake. After a few km's of hard-packed gravel the route turned left into the rolling hills of the riding area known as the Three Blind Mice and the singletrack climbing began. Throw in a total of 1239 meters, a short but stiff hike-a-bike, repeat more of these hoppy flavours in the "everywhere a gravel bike can go" sampler pack, now that's a smorgasbord of tasty delights, eh!!
"It had everything in it, flowy singletrack, a bit of road, a bit of gnarly singletrack ,a hike-a-bike, that was a sweet mix!"

Corey Wallace (Kona Endurance Team)
The Hike-A-Bike – today's stand-out feature of the course bridges two green spaces of the South Okanagan via the Naramata Creek. A steep and sustained narrow bench cut led down to a freshly re-covered bridge and then began the hike out. A hike-a-bike is often something clearly associated with an un-navigable segment of a course, for some, it is an inconvenience and for others, more of feature to slow down and enjoy the scenery, or attack – at any rate 'everywhere a gravel bike can go' is embodied once again in Day 2 of the BCBR Gravel Explorer.
"It wasn't terrifying on that off camber stretch, everything felt secure, you could rip through and see good lines"




Karsten Madsen (Clif Bar, Oakley, Enve, Ryzon)
The lead pack containing the usual suspects; Cory Wallace (Kona Endurance Team), Karsten Madsen (Clif Bar, Oakley, Enve, Ryzon), Lucas Strain (CNCPT Team), Alexander Fraser-Maraun (Red Truck Racing p/b Mosaic Homes) and Declan Kelly (Red Truck Racing p/b Mosaic Homes) regrouped following the initial climb as they entered the KVR rail grade just before hitting the sustained and technical singletrack climb. The group proceeded to attack and sort itself out by virtue of; leg strength, lung size, sheer threshold management and overall technical prowess with Cory Wallace coming out first as they crested over the top. Into the aid-station, Cory Wallace (Kona Endurance Team) had an approximate two (2) minute lead over Karsten Madsen. This gap was stretched a bit farther over the last part of the course but the initial sort-out remained the same between Cory and Karsten with Lucas Strain and Alexander Fraser-Maraun both fading a bit to finish together in third (3) and fourth(4) respectively, for the day, mere seconds apart.
"That long singletrack climb, once you got into a groove, it was fun, everything was right on that perfect edge of – I can do this if I just focus the right amount, come at it right – and having that challenge every now and then was a really nice way to mix up the fitness/suffering aspect of it. I loved it!"

Amity Rockwell (Easton Cycling)

---

"We were surviving on some of the road attacks, but once we got onto the singletrack it was like a rhythm – then you ride clean and then methodically go fast"

Karsten Madsen (Clif Bar, Oakley, Enve, Ryzon)
On the women's side, Sammi Runnels (CNCPT Team) the race leader, got into the singletrack first with a solid gap over Amity Rockwell (Easton Cycling). By the time the two had passed the mid-way point – the hike-a-bike – Amity had managed to close the gap down to almost visible distance yet by the finish line the final gap had returned to nearly 2.5 minutes. With three (3) more days of racing and some more traditional gravel stages ahead, the race for the women's title is still not firmly secured.
"Excited to see how everything shapes up over the next few days, I mean its' definitely a long week, I'm hoping the legs hold out."

Amity Rockwell (Easton Cycling)
Somewhere on the lower slopes of the Three Blind mice trail network containing the vigorous singletrack climb Jesse Sholtes (CDN Controls) the leader in the Men's 30+ category had moved into third place overall and was grinding his way forward through the established leaders.
"I loved that stage, I liked the technical climbing stuff, that's my jam"

Said Jesse Sholtes (CDN Controls)
In the 50+ women's category, Jodi Merckx is riding an amazing race and crushing all obstacles put before her. These first two days have thrown a ton of tech and gnar at a world of gravel perhaps some, not 100% expecting it to be so 'engaging', but everyone is rising to the challenge with big grins and high-fives.
Day 3 will be a return to traditional gravel with a nearly 100km FSR excursion punctuated by some lake views and KVR (rail grade double track) – is this the recovery day before the tech resumes?
Cheers from the BCBR Team
Photo Credit: Chris Stenberg/Andrew Ross