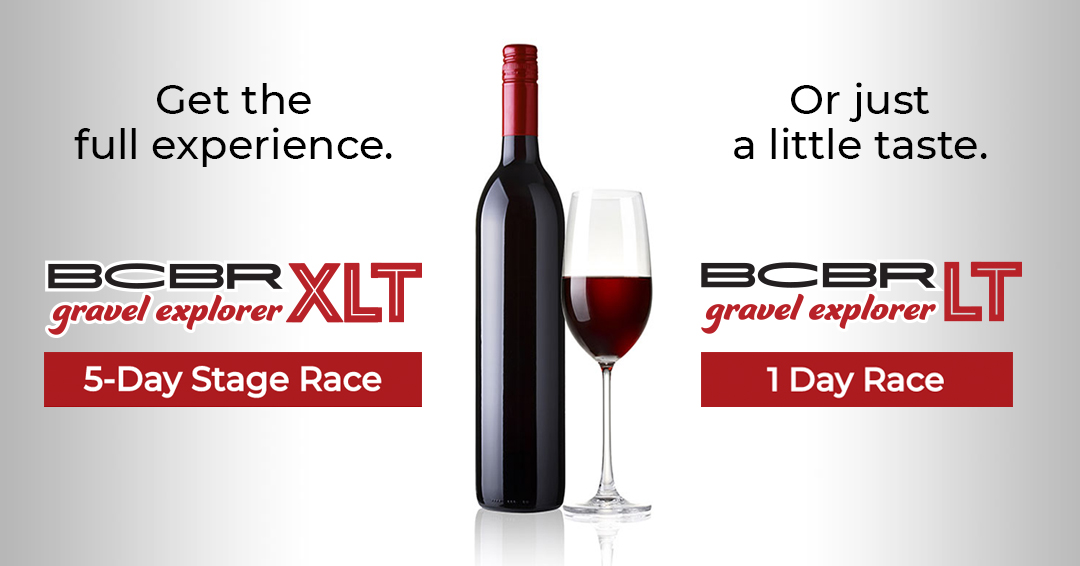 We're excited to introduce the Gravel Explorer LT for 2022.  It gives the racers who aren't ready to commit to the full 5-day XLT a "little taste" of the experience. Located in the South Okanagan wine Country of British Columbia, this new one (1) day event will pair nicely with the super successful five (5) day stage race and big brother, the original Gravel Explorer XLT. Save the date for the LT, Sept 25th, or the longer XLT, Sept 25-29th, 2022.
Registration for the Gravel Explorer LT is now open with tiered pricing and limited capacity.
The Gravel Explorer LT, with 1600 meters of elevation gain over 91kms will showcase a variety of terrain to create a legendary gravel grind with grit. From the lakeside start line, through the vineyards to the rolling hills of the high country and back again, you will be challenged with a wicked fun time on two wheels. The total distance is 91km, but the timed race route is 71km. The finish for the timed section is at the Little Tunnel on the KVR north of Naramata BC. The remaining 20km is designed to reflect the "Slow Ride" concept and tours the Naramata Bench showcasing the vineyards, viticulture, orchards, artisans and crafters that make this area the Tuscany of North America.  You can expect a few stops along the way to sample some of the offerings from the locals.
The winning combination of perfect location and ideal terrain come together to deliver an unbeatable gravel experience.
Based on the principles successfully executed in the inaugural Gravel Explorer (a five-day stage race) last  year, the Explorer LT will deliver the same "gravel grind with grit" experience.  The aim is to take you "everywhere a gravel bike can go", while still keeping the essences of an amazing and challenging experience for all riders, as the key focus.
Powered by the BC Bike Race team, we bring passion, experience and dedication to each and every unique cycling event we create. The Gravel Explorer LT and the XLT will be curated and delivered as a Fall Classics in the making. Together these two events will offer riders a choice on how they want to enjoy one of the world's most beautiful locations: Penticton, Naramata and the South Okanagan.
Train all summer with a goal in mind. Enjoy all the other rides and races of summer, knowing the final test and year end celebration will take place in the majestic wine country of the South Okanagan.
Registration is now open for both the XLT and the LT. We hope to see you there!