Racers' tired legs enjoyed the shortest distance stage of the 2022 Gravel Explorer XLT, but what was short in distance still featured some serious elevation on challenging technical, loose, and rocky gravel.
The route, newly created and connected by Course Designer, Jessy Hoffman, gave our intrepid racers the opportunity to be among the first ever gravel cyclists to cover this new route that is sure to become a local classic.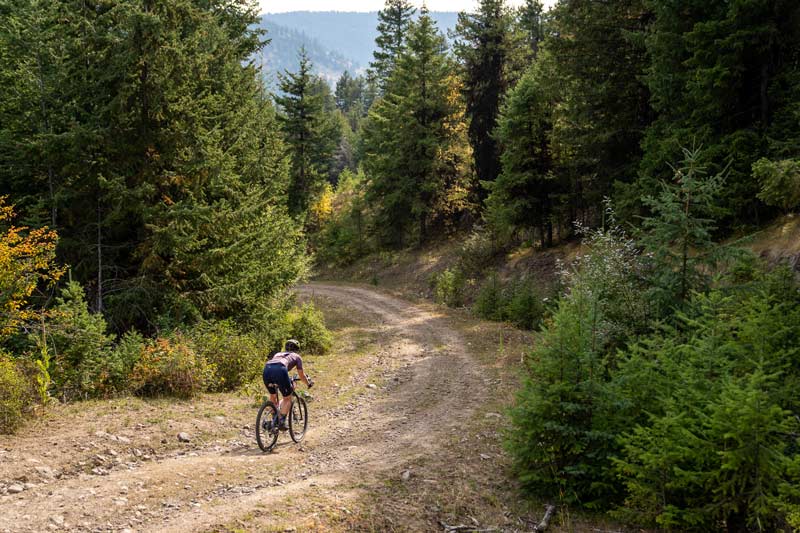 An Okanagan secret
Easton Stage 4 showcased one of the South Okanagan's unexpected hidden gems – a winding gravel adventure through a forest of green. Anyone who thought the Okanagan is only dry, dusty, and brown was in for a surprise!
As everybody in the Gravel Explorer XLT is accustomed to by now, the day started with the major climb of the day. What starts in the valley of the South Okanagan must go up. The unrelenting climb forced racers to choose their line carefully in sections.
From the highpoint, racers were treated with rolling forest-service-roads up in the mountains above Twin Lakes. One participant went so far as to call it a "pump track for gravel bikes."
It wasn't all smooth sailing though, as line selection became more paramount through some of the rougher sections that deposited racers back down to Twin Lakes and the finish line.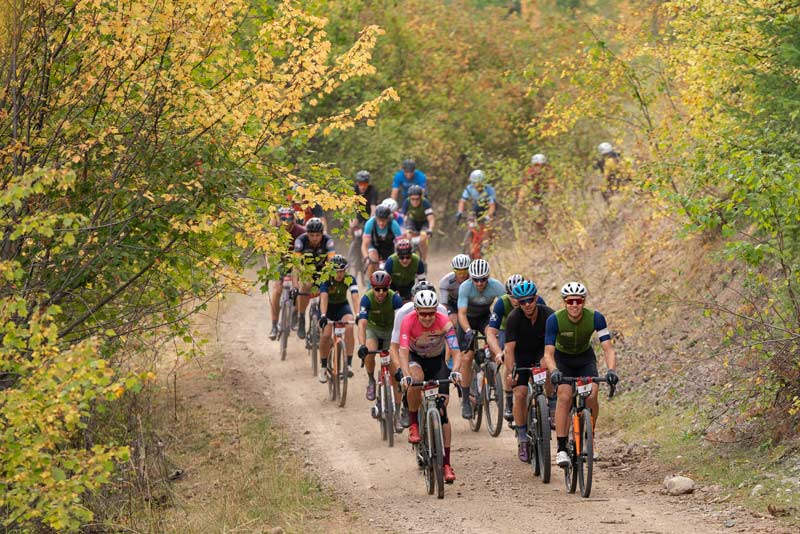 Women's GC standings all but locked up, but will Frazier make it a clean sweep?
The Open Women's GC is all but locked up heading into the final stage after another dominating performance from Cynthia Frazier, taking her 4th victory in as many stages.
Amity Rockwell, onto her 11th day of racing in 13 days, kept the stage interesting, always with Frazier in her sights. Ultimately, her hunt for a stage victory would lose out to fresher legs. Rockwell rolled across the finish line just under 3 minutes behind Frazier.
Rachel Wills rounded out the podium with another gritty performance, finishing in 3:07:58.
L'Esperance one step closer to GC victory
In the Men's Open race, fireworks started early, with L'Esperance opening up a small gap of 20 seconds partway into the grueling opening climb. Rob Britton was in hot pursuit, with Cory Wallace half a minute behind to round out the top three.
Britton was able to rejoin L'Esperance eventually, with Wallace not far behind, but with the leading duo able to work together, Wallace wouldn't be able to make contact with the front again in the stage.
L'Esperance opened up a small gap on Britton to claim another stage victory. Britton and Wallace rounded out the podium with no change in the GC podium. Going into the final stage, just under 5 minutes separate L'Esperance and Britton, so the GC still has a chance to be decided.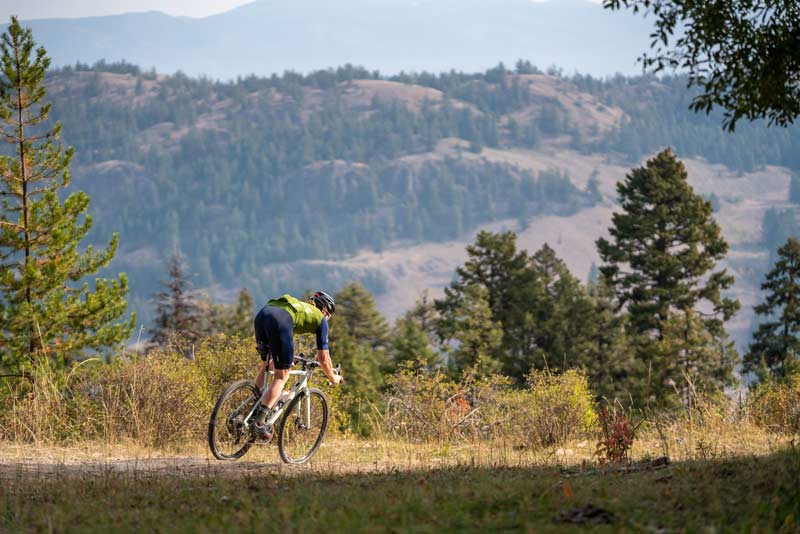 New zone impresses racers
With such a unique, undiscovered course, even locals learned a new route with Easton Stage 4. It's not often you get to climb from the arid, low-lying elevations into moss-filled forests, but that's exactly what happened.
Through a mix of creative connections between decommissioned and active forest service roads, Course Director, Jessy Hoffman, really pulled out all the stops in putting together something unique not only to the Gravel Explorer XLT, but to the usual gravel riding routes in the South Okanagan too.
To get up to the mossy forests, racers had to climb on a mix of smooth and rugged, adventurous gravel. "It was like an uphill time trial at points," Andrew Schmidt, from Phoenixville, Pennsylvania said of the Stage 4. "The climb was hard, but after that there was one descent that really felt like a gravel pump track. This course was awesome!"
Kevin Willis, from Ottawa, Ontario, agreed. "The downhills were INSANE! We don't have anything like this back home. The route was different than everything else we've done in the race too!"
The Wall challenges all
Putting the explore into the Gravel Explorer was a hike-a-bike section affectionately named the Wall. Although short, it challenged the traction of tires, and eventually cycling shoes, as Gravel Explorers had to carry their bike to the top.
The reward? Nothing but grades pointed down all the way to the finish.
3T Stage 5 set to provide an epic finale
To put the bow on an epic 5 days of racing, 3T Stage 5 promises to showcase a little bit of everything a gravel bike can handle. Racers will climb pavement, the KVR, old gravel highways, and rugged FSRs enroute to the finish line.
With 80 kilometres of distance and 1,280 metres of ascent, there will be plenty of time for the adventurous gravel explorers to take in some of the most scenic views the South Okanagan has to offer.
Will L'Esperance hold off Britton to take the overall? Will Rockwell finally get that stage victory she's been searching for? Stay tuned for the Gravel Explorer XLT finale, 3T Stage 5, to find out.