After a big debut year in the Okanagan, the Gravel Explorer launched into year two with a big ride from Naramata to the edge of Kelowna, and back. The five-day XLT expedition racers were joined by the single-day Gravel Explorer LT field, a new event for 2022.
The mixed field made for exciting racing. Just 0.08 seconds separated Rob Britton and Andrew L'Esperance after 85km on the clock in the men's race. Amity Rockwell, the inaugural Gravel Exporer winner, and new challenger Cynthia Frazer put first tracks into the women's XLT race.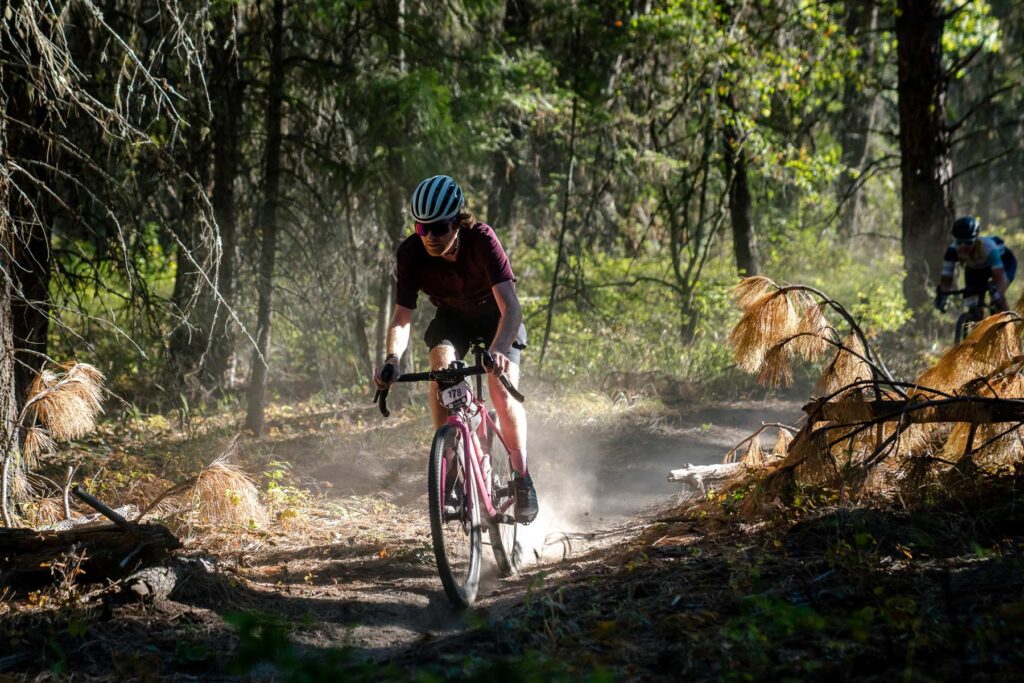 Men's
The men's race started with a strategic battle between 2021 BC Bike Race winner Andrew L'Esperance and former World Tour pro, Rob Britton. While Britton has the horseposer, it was L'Esperance's technical skills carried him over the first climb – a hike-a-bike for most racers – in the lead. With some absolutely pinned descending, the Maxxis rider went through the aid station first. The recently retired road racer quickly caught back on a long false-flat towards Kelowna.
"That was pretty much the story of the day: I'd get away on the tech, Rob would use his advantage on the smoother parts to reel me back. Then we sprinted it out. It was a really fun day on the bike."
It could also be the story of the week. The two have a solid lead in the XLT standings. If it is, that's OK with the Maxxis racer.
"We pushed each other really hard today. If we can get four days of that it'll be awesome racing."
For his part, Britton was happy to walk away with the week's first win. Especially rolling in with a week on the mountain bike at BC Bike Race already in his legs.
"I'm feeling supririsingly good. Shockingly good," Britton said after his sprint victory. "I didn't expect that, but I'll take it."
L'Esperance isn't surprised by his competitor's form. Even coming in fresh against Britton's hard-fought fourth at BCBR, the Maxxis rider isn't counting on any advantage.
"I honestly think Rob has enough experience at stage races that his performance day to day isn't going to change that much," L'Espy said in the finish area. "I tend to get better later in the week. So it'll be interesting, I don't know how it will go."
Animating the race in Naramata was third place finisher Colin Eriks. Against a field with international experience, the Vancouver racer pushed his fitness to land a very solid podium on Sunday.
"I knew that the first part of the race was going to be good for me, with the paved climb. And I knew as soon as we hit the singletrack it'd be game over" Eriks said after. While the rest of the course was far from easy-going, the Red Kilo rider didn't slow down. "The other parts were rough, but not technical. You just had to send it and hope your tires would hold up!"
Women's
On the women's side, Cynthia Frazier rolled home to the first XLT win of the 2022 Gravel Explorer. In her first Gravel Explorer, the U.S. rider had a clear strategy.
"I knew it was going to be technical, so I wanted to make sure I was up font in case something were to happen and so I could make a move on the descent. That's usually where I make up ground in races."
Before the day's big descending started, Frazier and 2021 Gravel Explorer winner, Amity Rockwell, were riding together on the way out to the end of the loop. This year, Rockwell's doubling up with the mountain bike and gravel back-to-back stage race. On Sunday, the added effort, and the lingering effects of a crash last week, were taking a toll.
"We rode together quite a bit," Rockwell said of the new rival for Gravel Explorer victory. "My body's still really messed up. I know what I can handle and what I can't and it wasn't doing so great for the last couple miles."
Last year, Rockwell built momentum all week on her way to the win. This year, she's up against another endurance specialist. Frazier is a Unbound XL winner and lands in B.C. fresh of Spain's 750-km Badlands race.
"I'm coming in off some long races, and I usually take a while to get warmed up. 750km is not necessarily the best training for a five day stage race. These short day's aren't always good for me, but today worked out pretty well."
Everyone
With LT and XLT events mixing, the week started with a bang. Perhaps the week's most challenging stage started with a big climb, most of the day's 1,700m elevation gain, before a highly technical descent back for a second pass through the aid station. It wasn't always easy going but, by the week's first finish line, new friendships were already being formed. Stunning views over Lake Okanagan from the day's final, lengthy railgrade descent also helped. Easy speed at the end of a long day helps erase any trials in the early kilometres. Racers were crossing the line in groups thrilled, if still tired from a big day on the bike. A downhill neutral spin out the KVR and back to the beach and beer garden in Manitou Park helped refresh legs and cement friendships.
A challenge is exactly what the Gravel Explorer promises, and is just what many rider's wanted. Naramata delivered in spades.
"I probably had more fun than ten people combined," Mel Webb said as she rolled up to the shores of Lake Okanagan. "I wouldn't call it racing. I would call it having a great day in the woods!"
At the end of the day, that is exactly what Gravel Explorer is all about. Seeing new and maybe unexpected parts of the beautiful Okanagan region. Some riders were done after one day. But those with the time, and the legs, to stick around can look forward to four more days of incredible gravel trails and remote back road riding.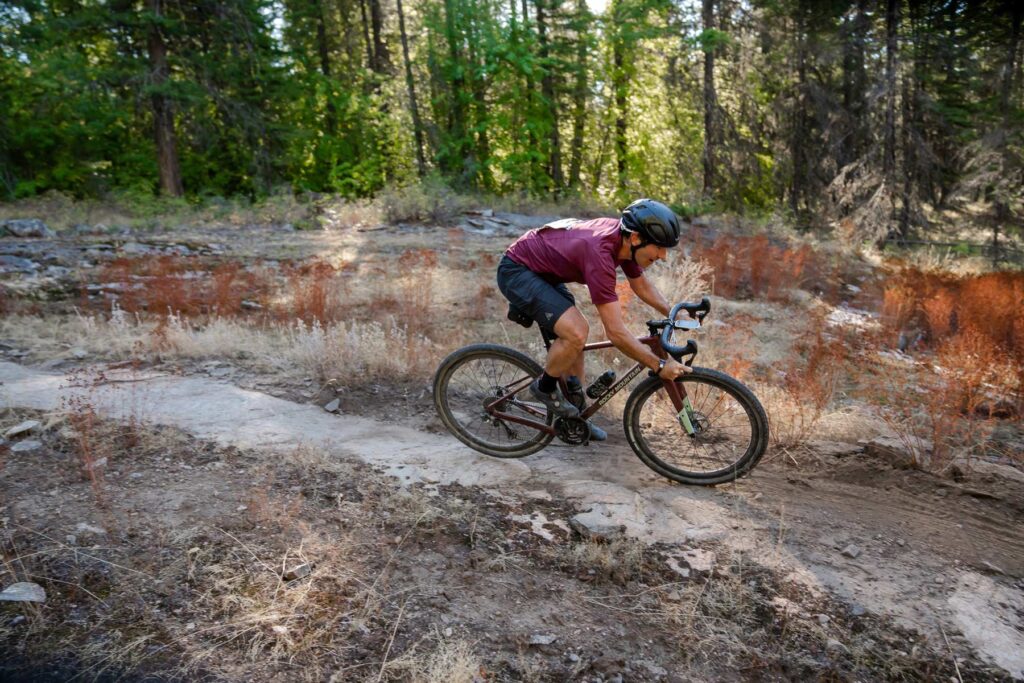 The Dirty Double
For a select group of riders, Britton and Rockwell included, the Gravel Explorer XLT is the second half of a truly epic Okanagan experience. After seven days of the BC Bike Race, these racers had just two days to lick their wounds and recover before lining up before Sunday's big start to the Gravel Explorer.
Lars Hallstrom currently sits third behind Britton and L'Esperance and is starting his second week of racing. Hailing from flatter grounds in Michigan, the B.C. mountains have been an experience.
"I'm Feeing pretty good today, actually. I was expecting to feel like crap with just two days off. But I had some mechanicals on the last days of the mountain bike, which made for a bit easier days. I think that helped. Last week, It was definitely the steepest stuff I've ever ridden. It challenged me at points but, once you stop thinking about racing and just enjoy the trails, it was a lot of fun."
While he's on the podium for the XLT and the double, Hallstrom has a simple strategy going into the second week.
"Just keep eating!" As for the racers up the road? "Keeping up with Rob and L'Espy is a big ask. I'm just going to ride my own race and see what I can do."
While the Gravel Explorer LT riders are headed home for a good nights sleep and some recovery, the XLT racers head across Lake Okanagan for Stage 2 in Summerland, B.C. 79 km and another 1,530m of elevation gain, this time in the cowboy country of the Okanagan. Starting from the Summerland Rodeo Grounds, racers explore an entirely different section of the KVR and a range of back roads to form one big loop.
Read the rest of the article at getouttheremag.com